27 June, 2022
Find your inner artist at Loch Gruinart
Very few people will disagree with the statement that Islay is breathtakingly beautiful. With its vast sandy beaches, to wildflower borders which appear to sing with life and colour. So many visitors attempt to capture that beauty on camera, but others go a step further.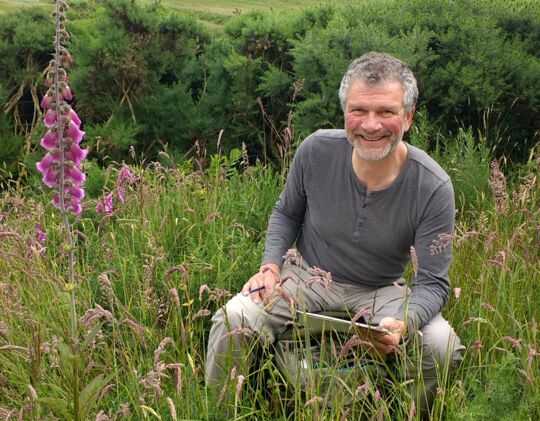 Dietmar Finger, artist and resident on Islay, has set up a number of art workshops at RSPB Loch Gruinart. It's here on the rugged coastline that Dietmar assists visitors in capturing the splendid Islay scenery on paper. With groups of no larger than four students, the workshop has a personal but supportive feel, allowing individuals to ask questions and share experiences. Everyone is welcome, from beginner to advanced artist, the only requirement is the motivation to 'have-a-go'.
'Oh but I'm all butter fingers when it comes to art' you say, 'stickmen are the extent of my drawing ability'. So many of us left our colouring pencils behind when our school days ended, but perhaps it's time to pick them up again? 
LINES OF BEAUTY
It's become increasingly common to spend our days going from one screen to another, relying heavily on the analytical left side of our brain. But art gives us a space to make mistakes, experiment and express ourselves. Islay isn't short of delivering when it comes to igniting creativity.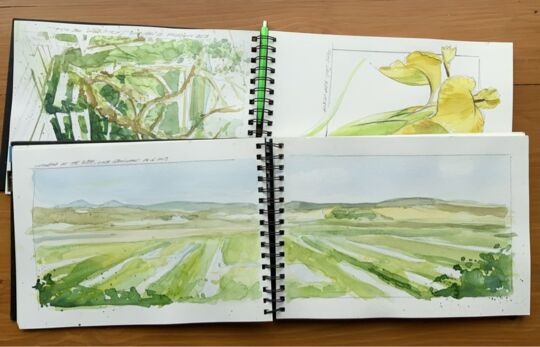 Arriving at the Loch Gruinart workshops, would-be artists find all the tools they will need ready for use: brushes, pens, pencils and papers. Once introductions have been made and conversation is flowing, Dietmar starts with highlighting the importance of perspective, foreground, background and sky. Encouraging students to make those first few nervous lines that start to build a picture.
Capturing a subject matter that is often in a constant state of flux takes patience and perseverance "I've sat and watched Islay's coastline and changing weather for years" says Dietmar, "and it is certainly never static. The waves crash against the rocks, the rain hits the windows and then the sun appears - and there can be a profound quietness. Islay's forever changing and that's certainly part of its beauty".
NATURE AND NURTURE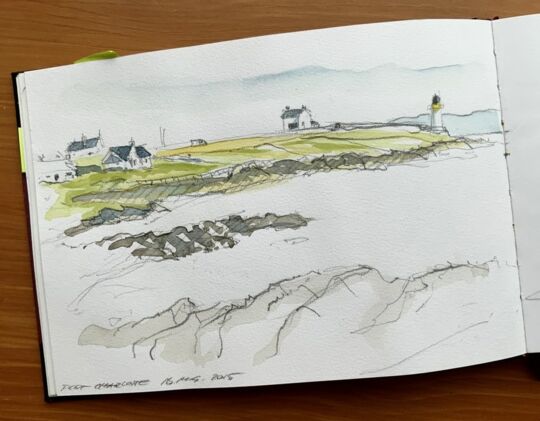 It's not always clear when you enter the workshop what the subject matter will be. Dietmar is often guided by the ever-changing weather or the interests of the group. If the weather is too difficult to take in the finer details of the landscape, students will be encouraged to draw flowers or consider the autonomy of a bird's skull. You can't design perfection – you need to work with you've got, and Dietmar effortlessly achieves this in his workshops. Whatever the subject matter all students walk away feeling more confident in exploring art as a form of expression, and as a way of illustrating the beauty that surrounds them.
In fact, having written this piece I do wonder if budding-artists take as much inspiration from their free-spirited tutor as they do the landscape, finding themselves painting with confidence and fearless creativity.
If you would like to 'have-a-go' at creating an Islay souvenir which is as unique as you, then head across to our 'what's on' page for details on how to book Dietmar's workshops. If you're just generally interested in wanting to know more about sketching or watercolour painting then do approach Dietmar directly at dietmar@fingerpainting.de.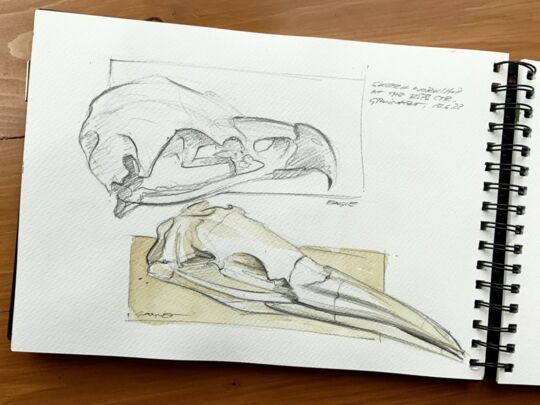 If you would like to know more about Islay, please explore our website, or reach out to us at info@islaydevelopment.com.
This article was written anonymously with permission from the Islay Development Initiative. However, the author leaves you with one clue to their identity 'I'm forever delivering the post, but I never walk a step'.