Campsites & motorhomes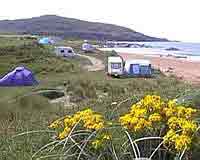 Basic camping and caravanning pitches are available from May to September among the shelter of the dunes beside the sea and surf. Terrain is grassy, sandy, free draining and entirely natural. You're pretty much free to pitch where you like. Facilities: three water standpipes, a converted farmsteading with toilets, hand-wash basins and showers with hot and cold water, and a unisex disabled toilet. No electrical hook-up points.
bookings@kintrafarm.co.uk + 44 (0) 1496 302051 www.kintrafarm.co.uk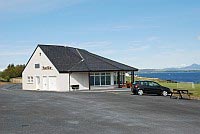 Port Mòr Centre and Campsite
Port Charlotte
The campsite at Port Mòr is available from beginning of March till the end of November. Welcomes tents, caravans and camper vans. We also allow awnings but the space provided for them is limited. The centre itself has a wide range of facilities for campers such as toilets (including disabled toilets/showers), showers, laundry and a bistro. With a free wireless network, you can access the internet from anywhere inside the Port Mòr Centre and, weather permitting, even from outside. Ten electrical hook-ups are available at £3 per night. Currently there is no water down at hook-ups but a stand pipe will be installed hopefully this summer. The charge for using the campsite is £8.00 per person per night or £4.00 for children up to 12 years old. Children up to 5 yrs old free. Payment is by cheque or cash only. The campsite is also dog-friendly at no extra charge.
warden@islandofislay.co.uk + 44 (0)1496 850441 www.islandofislay.co.uk
South Islay Campervan Stop
From 2018 onwards a new facility for campervans and motorhomes has opened in Port Ellen behind the filling station. This facility has four electrical hook-ups as well as a chemical toilet and grey water disposal point and intake for fresh water. Disposal of chemical toilets is possible for non pitch-holders for a £5 fee. Fee for an overnight pitch is £15. Mobile home users are encouraged to phone or go to filling station to book. Tel +44 (0) 1496 302 443.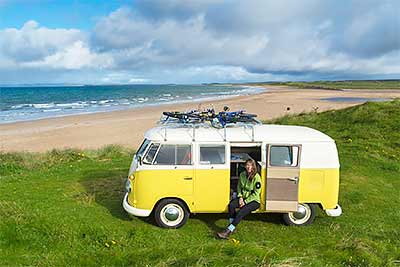 Parking your motorhome or campervan
The Road Traffic Act 1988 makes it an offence to drive a motor vehicle onto private land without lawful authority. No offence is committed, however, where a person drives within 15 yards of a public road for the purpose of parking. However, this does not imply that a person has a right to do so.
Pitching up at the side of a public road is not considered wild camping, however remote the route. Better to use an official campsite with sanitation facilities if there is one available in the area. If you have to camp by the road, avoid overused sites, take particular care with toilet hygiene, pitch late and leave early.
There are two official campsites on the Isle of Islay, the details of which can be found below. An unofficial but very lovely place to park a campervan or motorhome is at the head of Loch Indaal on the north side between Bridgend and Bruichladdich. Remember that there are no facilities here.
Wild Camping
If you are out and about on Islay and like to camp in the wild, keep in mind the following:
under the Land Reform (Scotland) Act 2003, wild camping is permitted provided it is short term (i.e. 2-3 nights) and only involves few people. Please also bear in mind the following advice when camping in the wild: be considerate and remember people have to make a living from the land. Stay away from houses and farms, unless you have asked for permission first, and don't camp on agricultural fields. Although lighting an open fire is not illegal, it's better to avoid open fires all together due to a high fire risk on peaty soils. Don't ever disturb wildlife, better find an alternative location. Always bag up your rubbish and take it with you when you leave.
Be considerate
Whatever you do, camping wild or parking your motorhome or campervan on the side of the road, always use your common sense and respect the flora and fauna of Islay and its landowners who have to make a living from the land. Keep in mind the following slogan and you're alright: 'Take Nothing but Pictures - Leave Nothing but Footprints - Kill Nothing but Time'.