Weather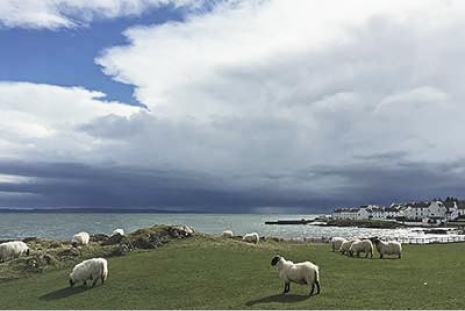 While snow and frost are relatively rare, gale-force winds are not uncommon. Like in other parts of western Scotland, the weather can sometimes be very changeable although there are also periods of stable weather. With nothing in-between Islay and the east coast of Canada, except the huge Atlantic Ocean, the south-westerly winds are an almost constant factor.
Spring
A beautiful time on Islay offering months with, on average, lots of sunshine, often clear skies and sometimes warm days varied with shorter spells of rain. April, May and June are the sunniest and also the driest months of the year, particularly May. Rainfall varies from 100 mm in April to 60 mm in June. The days are very long with almost 18 hours of daylight in June.
Summer
This is usually not too warm. July and August are on average the warmest months with a daily maximum average of 16˚C, whereas September already cools down and can be compared with June, but with less sunshine. the average rainfall is 77 mm in July and gradually becomes around 118 mm in September.
A saying on Islay about the weather: "If you don't like the weather, wait five minutes"

Autumn
Anything from showers and gales with sunshine in-between, longer periods of rain, overcast or misty days to crystal clear days when summer is lingering, which is sometimes the case in October. The colours in the autumn are beautiful with all shades of browns and yellows and the skies can be very dramatic. The days are now getting shorter with almost 12 hours of daylight in late September to a little over 7 hours of daylight in late November. The average rainfall increases in the autumn months and is around 130 mm in each of the autumn months.
Winter
Sometimes a depressing period, specially when the island is battered by winter storms, although the average rainfall matches that of late autumn. December and January are the least sunny months and January is on average the wettest month of the year. The days are short, offering not more then 7 hours of daylight.
Yet winter can also show a different face with crisp skies, frosty mornings and bright skies although these are not too common. Because of the presence of the Atlantic, temperatures never reach extremes and therefore the winter temperatures almost never reach freezing point. Snow on Islay is very rare although the mountains can have an occasional white cover, especially the Paps of Jura. Already in February the days are getting longer, and the island is already preparing for spring.
Islay weather forecast
ISLAY WEATHER

Weather climate averages
The graph below gives an idea of the climate and average rainfall. Bear in mind that these are just averages over 30 years: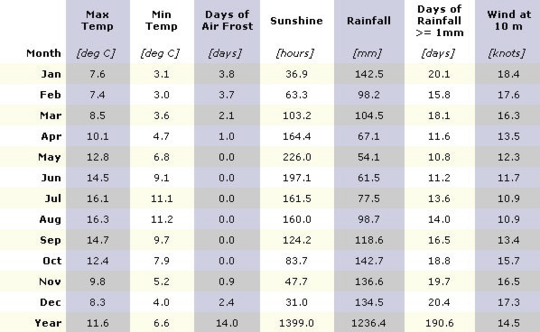 Daylight hours
These are sunrise and sunset times on Islay from January to December, for the 1st, 15th and last day of the month taking daylight savings time into account. You'll also see the number of expected daylight hours under normal conditions.
January 1st
January 15th
January 31st
Sunrise
Sunset
Daylight hours
08:54
16:03
7 hrs, 9 min
08:44
16:25
7 hrs, 41 min
08:20
16:57
8 hrs, 37 min
February 1st
February 15th
February 28th
Sunrise
Sunset
Daylight hours
08:18
16:59
8 hrs, 41 min
07:49
17:30
9 hrs, 41 min
07:19
17:57
10 hrs, 38 min
March 1st
March 15th
March 31st
Sunrise
Sunset
Daylight hours
07:16
17:59
10 hrs, 43 min
06:40
18:28
11 hrs, 48 min
06:59
20:00
13 hrs, 1 min
April 1st
April 15th
April 30th
Sunrise
Sunset
Daylight hours
06:56
20:02
13 hrs, 6 min
06:20
20:30
14 hrs, 10 min
05:45
21:01
15 hrs, 16 min
May 1st
May 15th
May 31st
Sunrise
Sunset
Daylight hours
05:43
21:03
15 hrs, 20 min
05:14
21:30
16 hrs, 16 min
04:50
21:55
17 hrs, 5 min
June 1st
June 15th
June 30th
Sunrise
Sunset
Daylight hours
04:49
21:57
17 hrs, 8 min
04:40
22:10
17 hrs, 30 min
04:55
22:11
17 hrs, 26 min
July 1st
July 15th
July 31st
Sunrise
Sunset
Daylight hours
04:46
22:11
17 hrs, 25 min
05:02
21:59
16 hrs, 57 min
05:29
21:33
16 hrs, 4 min
August 1st
August 15th
August 31st
Sunrise
Sunset
Daylight hours
05:31
21:31
16 hrs, 0 min
05:57
21:01
15 hrs, 4 min
06:27
20:21
13 hrs, 54 min
September 1st
September 15th
September 30th
Sunrise
Sunset
Daylight hours
06:29
20:19
13 hrs, 50 min
06:56
19:43
12 hrs, 47 min
07:26
19:03
11 hrs, 37 min
October 1st
October 15th
October 31st
Sunrise
Sunset
Daylight hours
07:28
19:01
11 hrs, 33 min
07:55
18:25
10hrs, 30 min
07:28
16:48
9 hrs, 20 min
November 1st
November 15th
November 30th
Sunrise
Sunset
Daylight hours
07:31
16:46
9 hrs, 15 min
07:59
16:19
8 hrs, 20 min
08:27
15:59
7 hrs, 32 min
December 1st
December 15th
December 31st
Sunrise
Sunset
Daylight hours
08:29
15:58
7 hrs, 29 min
08:47
15:52
7 hrs, 4 min
08:54
16:02
7 hrs, 8 min