Whisky history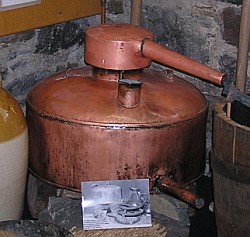 Irish monks are believed to have begun distillation on Islay, during the early fourteenth century. The island was perfect for whisky production, with unlimited supplies of peat, as well as lochs and rivers filled with pure soft water. The local crofters grew the forerunner of the modern barley (bere) for their subsistence and distilled the surplus.
Distilling was originally carried out openly in black shebeens until a tax was levied on whisky in 1644 as part of the Excise Act. This forced the distillers to move into the remote glens and caves to avoid detection. There was, however, great reluctance on the part of the exciseman to come to an island where the natives were regarded as a "wild barbarous people". In 1777, the Reverend John McLeish of Kilchoman Parish reported that, "We have not an excise officer on the whole island. The quantity therefore, of Islay whisky made here is very great and the evil that follows drinking to excess of this liquor, is very visible on the island".
The Mull of Oa peninsula was well known for illicit distilling, with stills found at Cragabus, Stremnishmore, Lower Killeyan and Goil. There were also stills at Octomore, Bridgend, Dail, Lossit, Tallant and Mulindry. Today we are left with nine licensed working distilleries on Islay and one on the island of Jura (total production in excess of 20,000,000 litres of alcohol per year). With current rates of duty on 40% whisky, Islay and Jura can hold their heads high as major contributors to the UK economy.
Possibly 95% of the whisky produced was used formerly in the make-up of all the famous blends (Johnny Walker, White Horse, The Famous Grouse, Bell's and countless others). However, a far greater proportion of whisky is now "laid down" with the increasing global interest in Single Malts. Stock shortages of mature whisky for this market have made some of the current bottlings very collectable. In 2021, five bottles (The Bowmore Archive Cabinet) sold at auction for £409,000.
Scotch Whisky can only be made in Scotland, and can't legally be called whisky until it has matured for a minimum of three years in oak casks. Prior to this, the spirit is referred to as P.B.S. (Plain British Spirit).