Ballygrant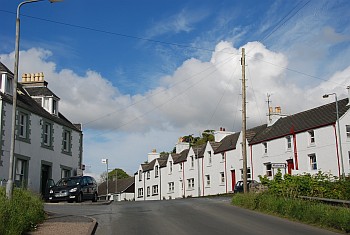 The earliest record of a meal mill at Ballygrant appears in a 1686 rent roll; 'Ballygrant' is an anglicised version of Baill a Ghrana, the town of the grain. Ballygrant is surrounded by good arable land on which barley and oats were grown to supply the local farm distillery. Now Lossit Kennels, this was an early whisky distillery in the early days, although there are no remains to be seen. It was one of Islay's the longest surviving 19th century farm-scale distilleries.
Lead and silver mining
From the 17th to the 19th centuries, Ballygrant was the centre of a considerable mining industry. In "A tour of Scotland and voyage to the Hebrides", Thomas Pennant describes how set out on an epic journey to Scotland in 1772. He visited Islay and was shown round by a Mr. Freebairn of Freeport. When they visited the mines, Pennant wrote: "The ore is of lead, much mixed with copper which occasions expense and trouble in the separation; the veins rise to the surface, have been worked at intervals for ages". About the workings he writes: "The lead-ore is good; the copper yields thirty-three pounds per hundred; and forty ounces of silver from the tun of metal. The lead-ore is smelted in the air-furnace, near Freeport".
Lead mining ended with the production of 38 tons of lead in 1880 and 1,214 ounces of silver. There were four mines the area: Gartness, Ballygrant, Woodend and Robolls east of Loch Finlaggan. Decayed buildings, holes in the ground and spoil tips are all that you still see.
Ballygrant village
Ballygrant is the island's longest established village yet is quite small; there's a shop, village hall and the Ballygrant Inn on the main road to Port Askaig. In the centre of Ballygrant, just after the quarry, is a turning to the right which is the start of the single-track Glen Road to Cluanach.
Despite being wee, Ballygrant is sufficiently interesting to include in your travel plans. The surrounding area is beautiful and perfect for walks. The woodland around Loch Ballygrant provides sheltered walk while this loch, loch Lossit and loch nan Cadhan are well-known for fishing.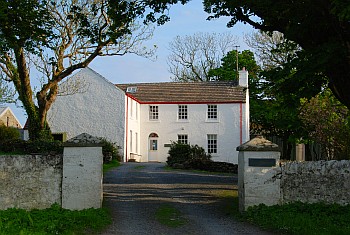 The woodland is part of the Dunlossit Estate and a track runs from the west side of Loch Ballygrant to Port Askaig. You'll find Lossit Kennels (house of the Dunlossit Headkeeper) here, while Dunlossit Estate Office is on the single-track road just outside Ballygrant.