The Big Strand beach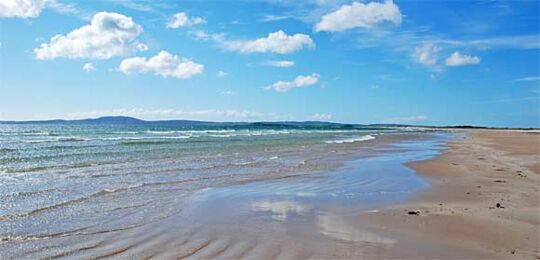 The Big Strand is the longest (mostly) uninterrupted sandy beach on Islay. Seven miles long, it stretches from Laggan Point in the north to Kintra and the Oa peninsula in the south. The only real interruption is the River Laggan at the north end of the beach. You can't cross this river easily, especially after heavy rainfall.
A minor interruption is the rocky outcrop west from Islay Airport which you can easily avoid, as there's a track over the dunes. The last stretch of this stunning beach has two more rivers, the Machrie and Kintra. They can sometimes be a bit difficult to cross after heavy rain but are usually fine.
In late spring and summer, weather permitting of course, the Big Strand is excellent for the whole family to sunbathe, play, build sandcastles, fly a kite, surf and so on. On such a long beach you'll always find a spot all to yourself.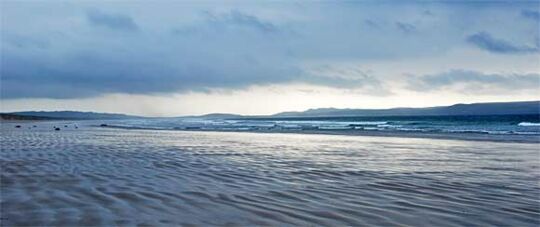 Being rather unsheltered, the Big Strand is ideal for endless refreshing walks, especially on bright windy days after a storm when the waves come rolling in. Outside the season this beach is usually almost deserted. You can be entirely on your own for several hours, accompanied only by seagulls enjoying the rising winds to fly just above the dunes. It's the perfect place to get away from it all!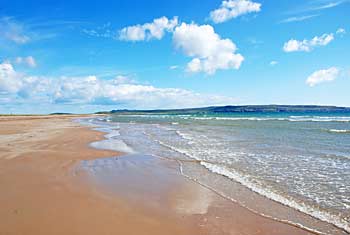 The beach is backed by sometimes rather high dunes that are quite rich in wildlife such as rabbits. Behind the dunes are, from north to south: Laggan Estate, Islay Airport, the Machrie Golf Course and Kintra Farm. Views from the beach can be breath-taking and include the Oa Peninsula and the Rinns of Islay. There's almost nowhere better to enjoy a legendary Islay sunset.
Access to the Big Strand
Despite its length there are only a few places where you can get directly to the beach; the most frequently used is at Kintra Farm, a few miles from Port Ellen. The other access is via a bumpy track directly north after the airport. It's a fairly long and very bumpy drive over old runways until you reach a gate almost near the end where there's a track to the beach.
You can get to the Big Strand from the Machrie Hotel; it's a nice place to drink or eat before or after your beach walk. The last way to access the beach is on Laggan Estate. There is a one-mile track from the Low Road between Port Ellen and Bowmore that leads to the Big Strand dunes. Here's how to access the beach via Laggan Estate.