Portnahaven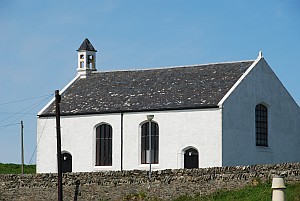 Portnahaven was planned and built during the 19th century with fishing and crofting as the villagers' main employment. Today, the people of Portnahaven and Port Wemyss share a church, with separate entry doors.
The village is built around a small, sheltered harbour. It's an excellent spot to observe grey seals which sometimes sit on the rocks around the bay to sunbathe. Port Wemyss is nearby and has a beautiful seaside with lovely, coloured cottages; a small pathway takes you to the waterside where seals can often be spotted. Both villages are quiet and peaceful, while Portnahaven offers especially picturesque views.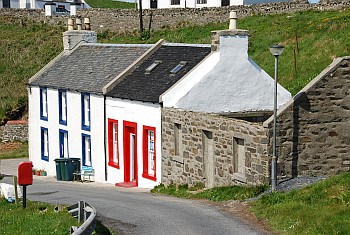 Portnahaven also has a quaint little pub down at the harbour which serves great food; called An Tigh Seinnse ('the house of singing' in Gaelic), it looks like a private house.
Opposite the bay is Orsay Island and the Rinns of Islay lighthouse, constructed in 1825. The lantern is 45 metres above the high-water mark and can be seen 40 kilometres away. Also on Orsay island is a chapel with well-preserved walls. There's an early Christian carved stone from Orsay chapel in the Museum of Islay Life.
It's easy to see the pattern of small crofting fields in this part of the island. As each planned village on Islay was constructed, areas of surrounding land were made available to the inhabitants to cultivate. The traditional methods of cultivation, hay-making and growing of oats and potatoes have greatly diminished in recent years in favour of silage-making as winter feed for sheep and cattle.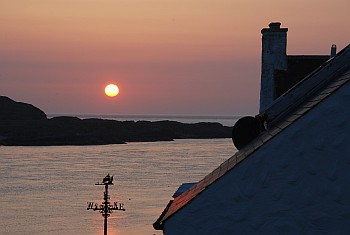 Further round the coast to the west, at Claddach, Islay's wave-power station, a concrete structure set into the low cliffs, feeds several hundred kilowatts to the national electricity grid.
Off the extreme south-western point of the island are Frenchmen's Rocks. These are named after a French squadron of three ships that was driven onto the rocks in 1760 after a battle with three British frigates. This is one of the best spots on Islay for sea-bird watching, especially in autumn when you can often see shearwaters, petrels, gannets and auks. During south-westerly gales, the sea crashing on the rocks and spray thrown high in the air are outstandingly spectacular.