Ardbeg Distillery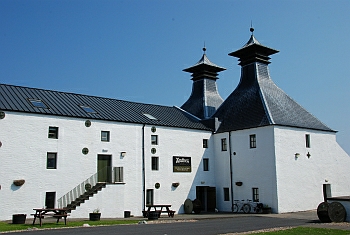 This iconic 200-year-old distillery was run by the McDougall family until 1959, then became Ardbeg Distillery Ltd. A takeover by Allied Distillers Ltd. followed in the 1970s. After closure from 1981-89 and temporary reopening for two months a year, it was reopened for good in 1997 by new owners the Glenmorangie Plc. It's currently owned (from 2004) by the Moet Hennessy company.
The distillery produces one of the peatiest whiskies on the island. The predominant aromas are of spices, malt or sweet tones like vanilla and chocolates, rather than sea and salt tastes.
It's won prestigious titles including World Whisky of the Year, Scotch Whisky of the Year and World's Best Single Malt.
The output volume of around one million litres per year was impressive considering there were only two pot stills and space was cramped. Today, Ardbeg buys malt with a high peat smoke content from the Port Ellen Maltings. The new still house in 2021 (with two wash and two spirit stills) should increase production volume to 2.4 million litres. The stills are designed to filter out the sharp and alcoholic tones that are tasted in cheap spirits.
Bourbon casks are usually found in the warehouses, but sherry casks sweeten some of their bottlings, such as the Uigeadail or the famous Lord of the Isles.
Visitors will find an added bonus, the Old Kiln Café, where excellent lunches can be enjoyed, including a taste of the end product.
OPENING TIMES
Visitor centre and shop open Tuesday-Saturday 9.30am-5pm until the end of October (updated 8 Aug 2022).