Bowmore Distillery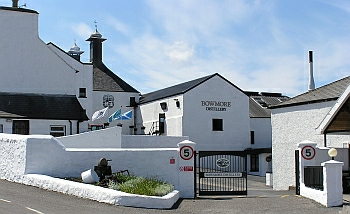 This is Islay's oldest legal distillery, located on the shores of Loch Indaal. John Simpson established it on a small scale for farming in 1779. It changed hands in 1837 when William and James Mutter took over and expanded the distillery. During World War II the distillery was closed while the RAF Costal Command resided in the buildings to combat enemy submarines. More recently, the Morrison family owned it until the takeover by the Japanese company Santoro.
The whisky is milder than the three southern Kildalton distilleries - the distinctive characters of Bowmore Single Malt Whiskies are peat smoke, salt and seaweed.
Bowmore produces about 2 million litres of alcohol per year. It's one of the few distilleries which still have malting floors, with phenol levels of 18/25 ppm. Afterwards, the malt is dried over peat fire which adds to the smoky peat flavour of the whisky. There are two wash stills and two spirit stills and water is obtained from the River Laggan. The stills are pear shaped, not very tall and the lyne arm rises after the neck and does not have pieces that increase the reflux. This all results in a rough, spicy and intense distillery character.
The whisky matures in flat dunnages in a cold and humid environment. The warehouses close proximity to the sea give the whisky its saltiness and marine flavours. The legendary No. 1 vault is the only warehouse below sea level.
Bourbon casks are mainly used to create sweet vanilla flavours, although sherry barrels can also be found to impart intense flavours of dried fruits.
A wide variety of whiskies are bottled of different ages and finishes, to appeal to an eclectic range of taste and budgets.
A newly remodelled visitors centre overlooks scenic Loch Indaal and features a handful of distillery-exclusive bottlings. The branding has also changed to Bowmore, The Original Islay Malt.
OPENING TIMES
The distillery shop is open Tuesday-Saturday 10am-4pm – book ahead to visit (updated 8 Aug 2022).