Bruichladdich Distillery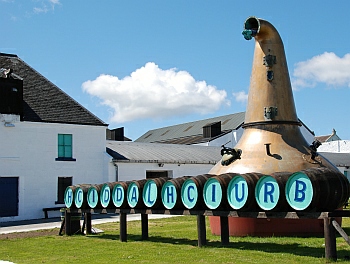 Bruichladdich Distillery was built in 1881 by the brothers Robert, William and John Gourlay Harvey in an idyllic spot on the shore of Loch Indaal. At the time, this was a purpose-built state-of-the-art design, unlike Islay's older distilleries, which had developed from old farm buildings. The distillery was sold by the Harvey family after William died in 1936, and was mothballed many times until it was purchased by Murray McDavid in 2000. They refurbished the distillery in the old Victorian style and started production. The present owner Rémy Cointreau purchased the company in 2012. In addition, the old buildings of Octomore Farm just outside Port Charlotte, formerly a small distillery, is now used by Bruichladdich as warehouses.
Bruichladdich whiskies are natural in character and colouring free.
It's a museum of a distillery still in operation with no computers used in production. It has an annual output of about 1.5 million litres of pure alcohol. The water for the Whisky comes from the Bruichladdich loch and the Octomore spring.
All barley used is exclusively Scottish, with local sources featuring in the presentation of the product range, right down to individual farms and even the fields where the grain was grown where possible. The recent purchase of the Lomond still has increased the total number of stills to five. The uniquely tall and narrow-necked pot stills were designed to produce a very pure and original spirit. The Lomond still allows the amount of reflux to be adjusted through different setups of the neck and the lyne arm.
The rather flat, bricked warehouses, together with the humid and cold climate, ensure that the whisky matures slowly.
This is one of only two distilleries on Islay which bottles on-site (the other one is Kilchoman). All the distillery's whiskies are sold as single malts with the Bruichladdich brand being unpeated, the Port Charlotte variety being heavily peated and those designated Octomore being super-heavily peated (considered to be "the most heavily peated single malt whisky in the world"). They include normal standard bottlings such as The Classic Laddie, a lot of Wine and Sherry finishes as well as a few experiments such as the X4.
Visitors can book tours of the distillery and tastings inside the warehouses.
OPENING TIMES
The Laddie shop opens daily 11am-5pm (updated 8 Aug 2022).