Bunnahabhain Distillery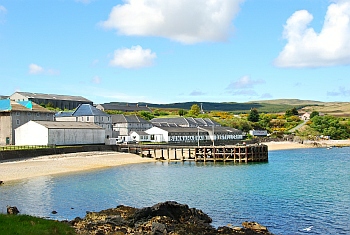 This distillery is stunningly located in the north of the island on the shore of the Sound of Islay. It was built in 1880/1881 and initially owned by the Islay Distillery Company, but in 1887 it was taken over by the Highland Distilleries Company. Originally it was supplied by ship, but in 1960 a road was built to the distillery. It closed in 1981 but reopened in 1984 when demand picked up again. In 2003 it was purchased by current owners Burn Stewart Distillers.
Bunnahabhain produces one of the milder, unpeated Islay whiskies available, and its taste varies greatly from other spirits found on the island.
The distillery produces about 2.5 million litres of alcohol per year. It's the only distillery on the island to use pure spring water. The water rises through limestone and is transported by pipeline to the distillery, so it doesn't pick up peat on the way. The malts produced have a lot of salty marine tones. The malt is sourced from the Port Ellen Maltings. The mash tun is one of the biggest in Scotland holding 12.5 tonnes. The stills are the tallest on Islay, with unusually long swan necks, so that a lighter, more delicate flavour profile can be produced.
Bunnahabhain has traditional flat-bricked dunnages in close proximity to the sea. This allows the Whisky to interact with the marine air on Islay. The core Bunnahabhain range is matured predominantly in sherry casks and is known for being unpeated, natural in colour and non-chill filtered.
Common bottlings range from 12 to 40 years-old with the former a favourite dram of many Ilich (people on Islay). There are also a few no age bottlings that have different tastes and many independent bottlings from the distillery. Bunnahabhain is the producer of the blends "The Famous Grouse" and "Black Bottle".
Visitors have four kinds of tour to choose from, including each step in production being showcased by the distillery manager himself.
OPENING TIMES
The visitor centre is open daily 10am-5pm until 31 October (updated 8 Aug 2022).