Caol Ila Distillery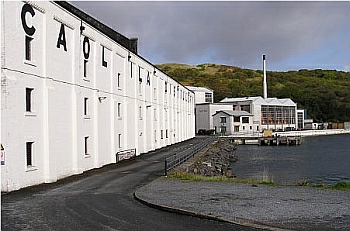 This largest distillery on the island is located directly on the shore of the Sound of Islay. It was founded in 1846 by Hector Henderson. Caol Ila can boast almost completely consistent production since its opening, having only closed briefly during the Second World War due to regulations placed on the use of barley. It changed hands multiple times during the 19th and early 20th centuries, with each new owner contributing to the expansion and development of the distillery. In 1972, the entire distillery structure was demolished and rebuilt in the original architectural style to be able to function at a higher capacity. This expansion included advancing from two stills to six in order to meet the new high level of demand.
Caol Ila is one of the lighter Islay Whiskies, lighter in colour than its powerful neighbours, but with distinctive floral and peppery notes which complement the traditional Islay peaty flavour.
The annual production of this distillery is over 3 million litres of alcohol per year, and it's often referred to as a whisky factory. The pure spring water used in Caol Ila rises from limestone in nearby Loch nam Ban, and falls towards the sea by the distillery. Malted barley is now sourced from Port Ellen, creating a lighter and cleaner whisky in the view of some experts. The stillroom at Caol Ila is renowned for its incredible view over the Sound of Islay. Both the wash and spirit stills have similar shapes, with large onion bases, no waists, and long, lithe arms stretching downwards.
While the older whisky is kept at the distillery in a three-story warehouse, today all whisky is aged and bottled in a Glaswegian warehouse. Most of the single malts are aged in bourbon casks, with some also in sherry wood. The Whisky can handle extra years in the casks, and ages extremely well.
In addition to its prestige as a single malt, Caol Ila is also used heavily in blends such as Johnnie Walker's Black Label. Since 1999, the distillery has also produced a non-peated "Highland Spirit".
Different expressions of Caol Ila have generally rated highly at spirit ratings competitions. The 12-year, for example, received two double gold, three gold, and one silver medal from the San Francisco World Spirits Competition between 2005 and 2010.
There is no formal visitor centre at Caol Ila, but it's possible to take a tour of the facilities.
OPENING TIMES
Currently closed for construction work. You can sample Caol Ila whisky at Lagavulin (updated 8 Aug 2022).