Kilchoman Distillery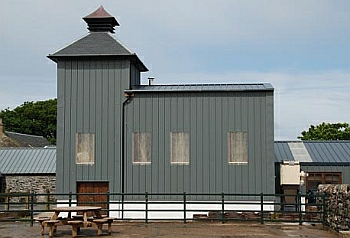 Kilchoman distillery is located on the west side of Islay, close to the Atlantic Ocean and Loch Gorm. One of the smallest distilleries in Scotland, it began production in 2005 and is expanding since acquiring Rockside Farm in 2015.
The whisky has classic peat smoke characteristics blended with floral sweetness.
This distillery is a craft producer because the focus is more on process than output (about 48,000 litres of alcohol per year). As the only true farm distillery in Scotland, it's also one of just six Scottish distilleries still working with traditional floor-maltings. In fact, it's unique in completing all parts of the whisky making process (growing barley, malting, distilling, maturing and bottling) on Islay. Some malt is obtained from the Port Ellen Maltings and this whisky is peated at 50 pmm compared to the 20 pmm levels produced on their own floor maltings. The stills (the smallest on Islay) are shaped to allow high levels of copper contact, which creates the desired maritime peat smoke and light floral citrus notes.
The single malt is matured mainly in bourbon and sherry barrels as well as a number of specialty and experimental casks.
The small range of official, on-site bottlings provides a wide range of taste. The distillery began bottling 3-year-old single malts in 2009, the 100% Islay (the island's only Single Farm Single Malt Scotch Whisky) was first released in 2011, and the Machir Bay, launched in 2012, attracted critical acclaim.
A Kilchoman visit is particularly interesting because every part of the process takes place in one building, which makes the entire process easy to follow and understand. The visitor centre includes both a shop and cafe.
OPENING TIMES
The visitor centre, shop & café are open Monday-Friday and Sunday 10am-5pm (closed Saturday). Updated 8 Aug 2022.