Lilly Loch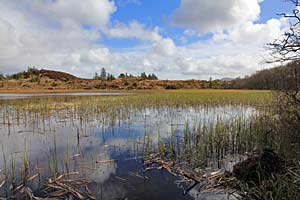 Directions: From Bridgend, follow the main road to Port Askaig. Near the end of the road is a sign for Caol Ila Distillery on the left. A few metres further down the road is a parking space on your right. Park here and a few metres up the hill towards Port Askaig is a gate with a sign that says "Footpath to the Lily Loch". This is a lovely sheltered walk on windy days.
Walk: Start along the track, which goes slightly downhill. In spring you're walking in between the lovely smelling gorse. After half a mile, you need to pass a gate and enter the woods that belong to Dunlossit Estate. At the end of the track you see Lilly Loch ahead of you. In late spring and summer there are many beautiful water lilies.
Option 1: From the picnic bench, you can go left following the track and complete a circular walk back via Dunlossit House. The views over Port Askaig near the end of the track are beautiful. You end up at the main road. From here, it's 100m back to where you started. Total distance of this route is 1.5 miles.
Option 2: Go right and follow the track on the southern shore of Lilly Loch. After half a mile, through some beautiful woodland, take a track to the left, 200m long, to get views of Loch Allan. The track stops here. You can now head back, or use the return route from option 1. Total distance 2.5 miles. For an additional 2 mile walk, see option 3 below.
Option 3: Instead of taking the track left to Loch Allan, you can continue on the main track. After a mile, keep Loch Ballygrant to your left and follow the track to the village of Ballygrant. From there you can take a bus back to Port Askaig.