Machir Bay and Grannies Rock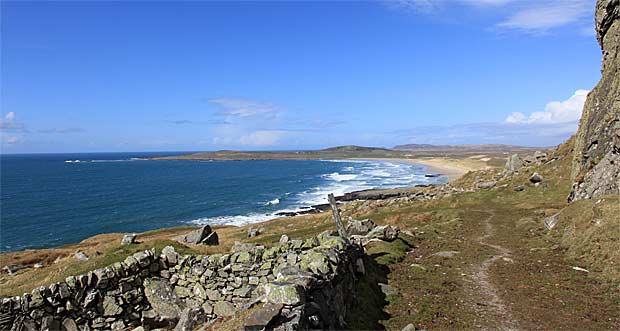 Directions: From Bridgend, follow the main road towards Bruichladdich. A mile before Bruichladdich is a sign to Kilchoman. Go right here and follow the single track road for four miles. Just before you reach the white terraced houses on your left, you need to keep right and follow the track down to the dunes. Here you can park and cross the wee bridge to access the beach.
Walk: On the beach you head south, left, and keep on walking all the way down to the end where the rocks meet the beach. Here is a wee track going uphill. Pass the gate and keep on walking up the hill over the farm track, while enjoying the stunning views over Machir Bay. Nearer to the top you will see a large rocky hill on your left, keep an eye out for Granny, you can see her only on some parts of the track. When you have reached the top you can either return, or continue your walk to Kilchiaran Bay and return from there.