Pubs & bars
Most pubs and bars on Islay can be found in the hotels and inns listed on this site. Some of them have regular traditional Scottish and Irish live music and most of them serve bar meals.
An Tigh Seinnse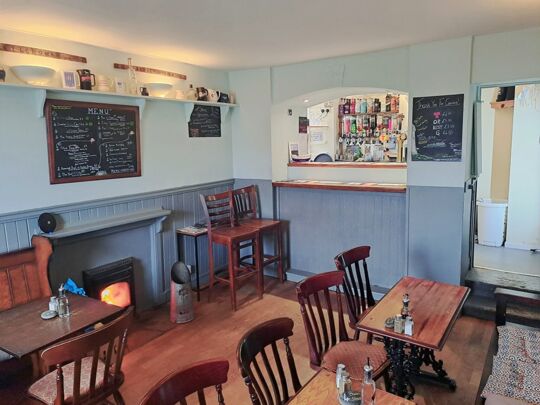 An Tigh Seinnse in Portnahaven has now reopened under new management as a traditional, welcoming pub with a great atmosphere and often a cosy fire, loved by locals and visitors alike. It serves fresh local seafood, a range of high-quality homemade dishes and affordable beers. It also offers takeaway coffees for those exploring the lovely fishing village of Portnahaven with its harbour, seals and views of Orsay Island and lighthouse, and beyond.
Ardview Inn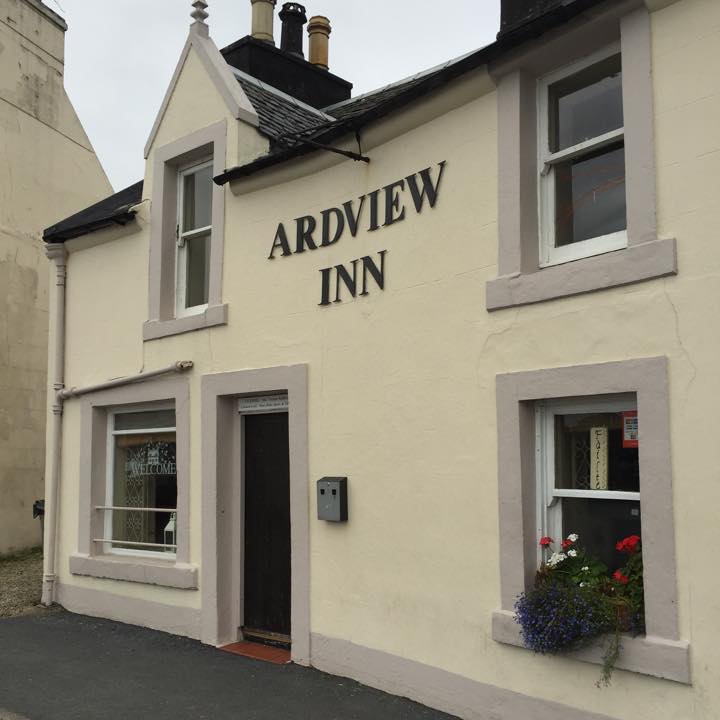 The Ardview Inn is a cozy welcoming pub in Port Ellen where a mixture of locals and visitors can be expected. It's a traditional meeting point with jukebox and pool table and a relaxed atmosphere. There is a wide selection of Islay whisky on offer as well as very reasonably-priced beers if you're not drinking spirits. The beer-related art on the walls adds additional charm to the place. It has also been fully refurbished to make your visit an even better experience. It's best to get there early if you want a seat as it can get busy, which also means waiting a little longer before you're served at the bar!
Ballygrant Inn Whisky Bar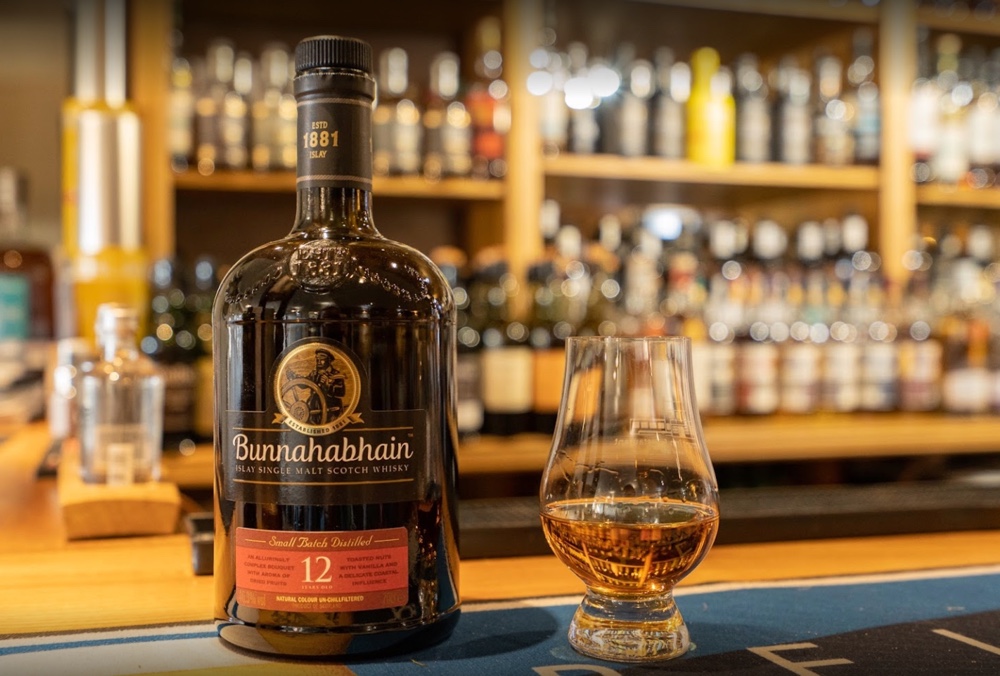 The Islay Whisky Bar in the Ballygrant Inn has a relaxed, welcoming atmosphere and beautiful views out across to the Paps of Jura. As well as an interesting wine list to accompany the food, there's an impressive collection of single malt whiskies, local beers and ales, Scottish artisan gins and plenty of non-alcoholic options. It also has a dart board, an extensive whisky library and a log-burning stove.
Bowmore Hotel Bar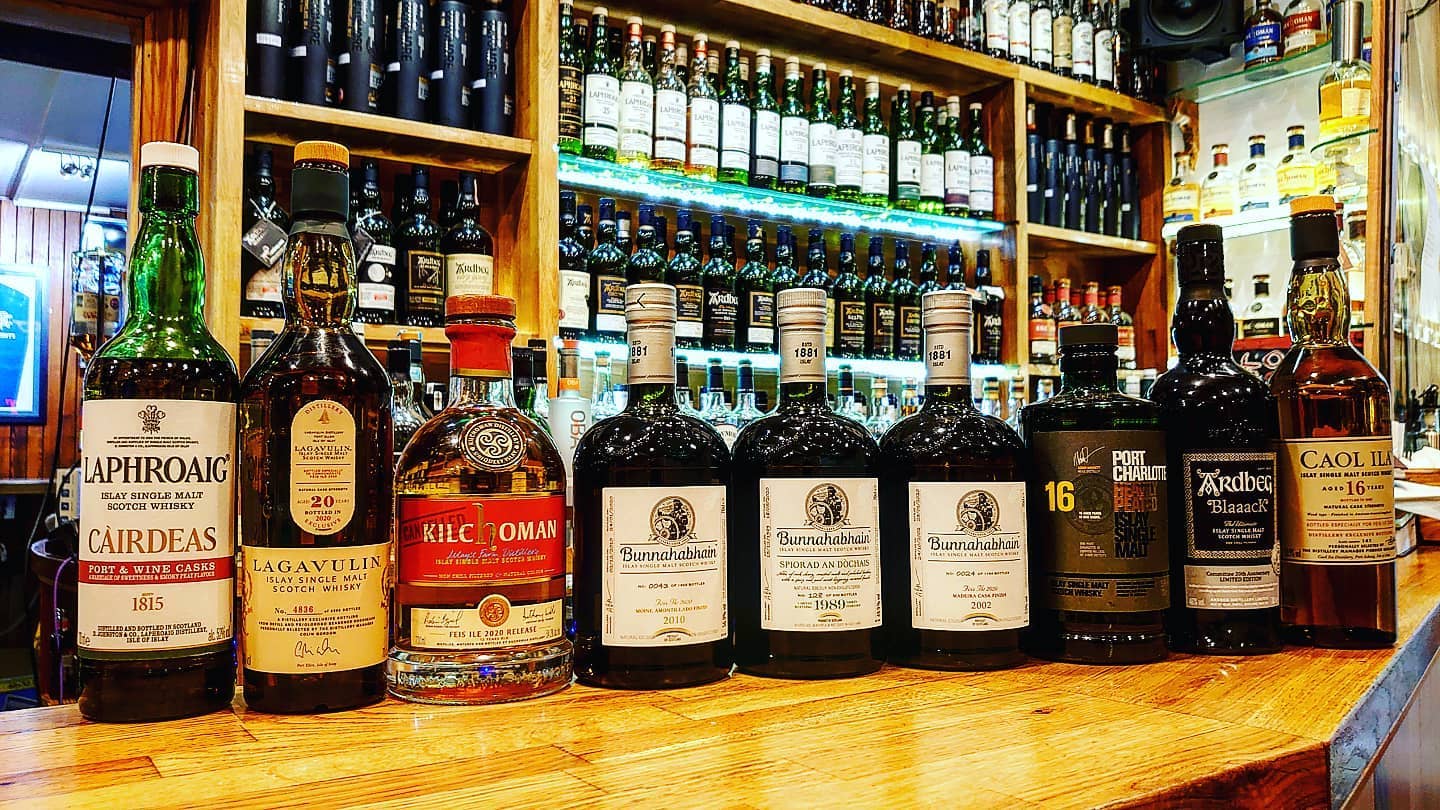 The Bowmore Hotel Bar stocks a modest range of beers and lagers from near and far. Only to be outdone by their collection of fine Scottish Malt Whisky (over 700 malt whiskies, mostly from Islay). An extensive range of affordable, high quality bar meals is always available and the venue is a hub for the music community in Islay.
Lochside Hotel Duffie's Bar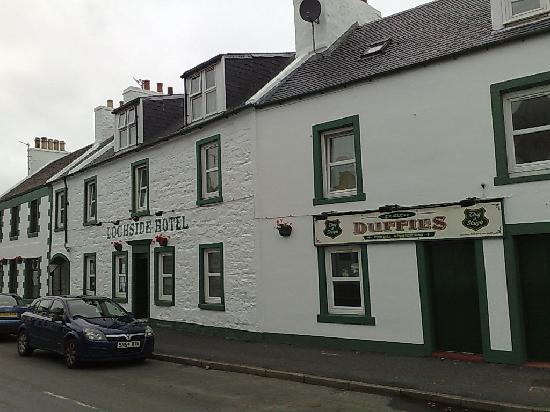 Duffie's Bar in the Lochside Hotel in Bowmore contributes to one of the great whisky selections of the world. The menu features over 300 bottles which can be enjoyed in the more traditional Pub setting that Duffie's bar provides. From the teenage spirit of Ardbeg's Very Young to the mature flavours of a 42-year-old Black Bowmore, the Lochside's cellars showcase the fascinating range of styles which underpins the global love affair with Scotland's national drink.
Bridgend Hotel Katie's Bar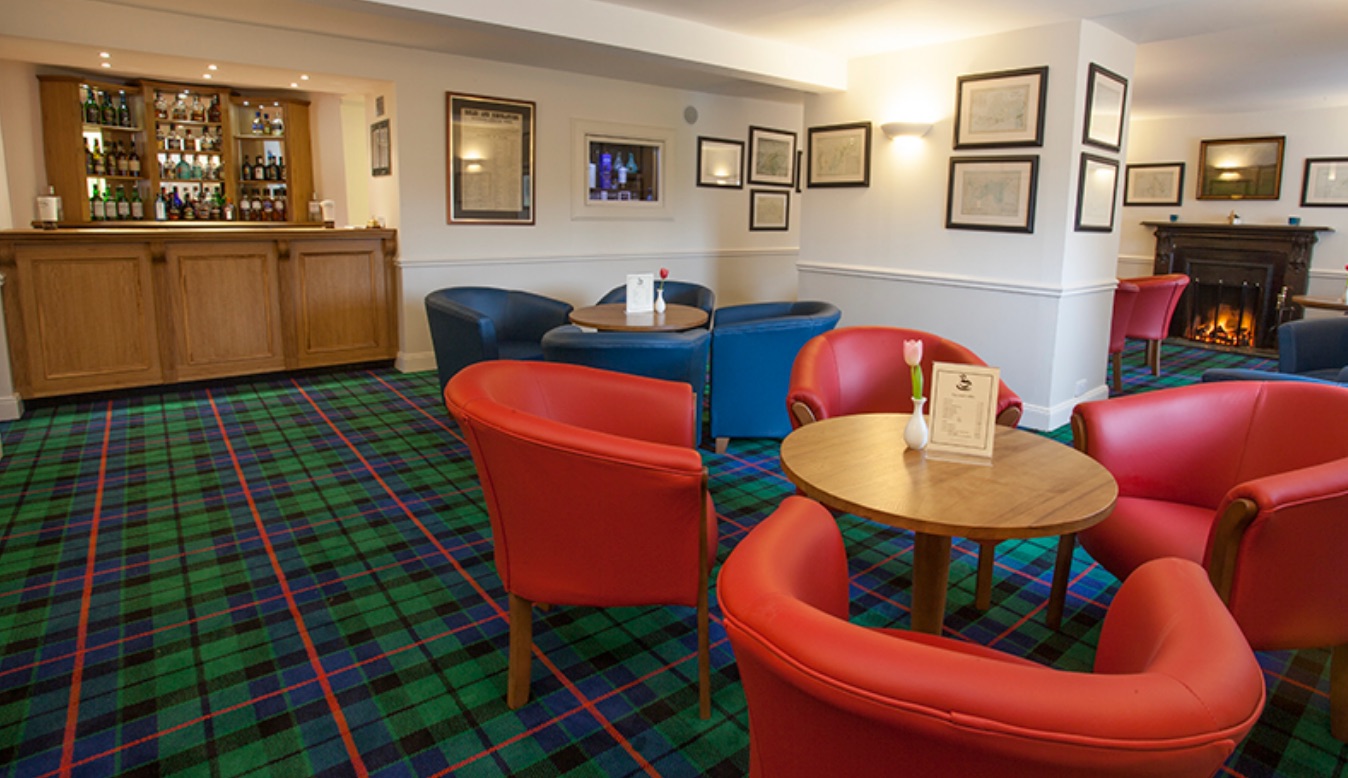 Katie's Bar in the Bridgend Hotel is respectfully named after their retired 80-year-old barmaid. The warm welcome that Katie previously offered continues, whether for a quick visit or to settle in and relax in front of the wood burning stove. You can sample the wares of the well-stocked bar or enjoy a more informal surrounding for lunch or dinner after a day's activity on Islay. The bar has a selection of all Islay's famous whisky, Islay Ales, local gins, and much more.
harbour Inn SCHOONER Bar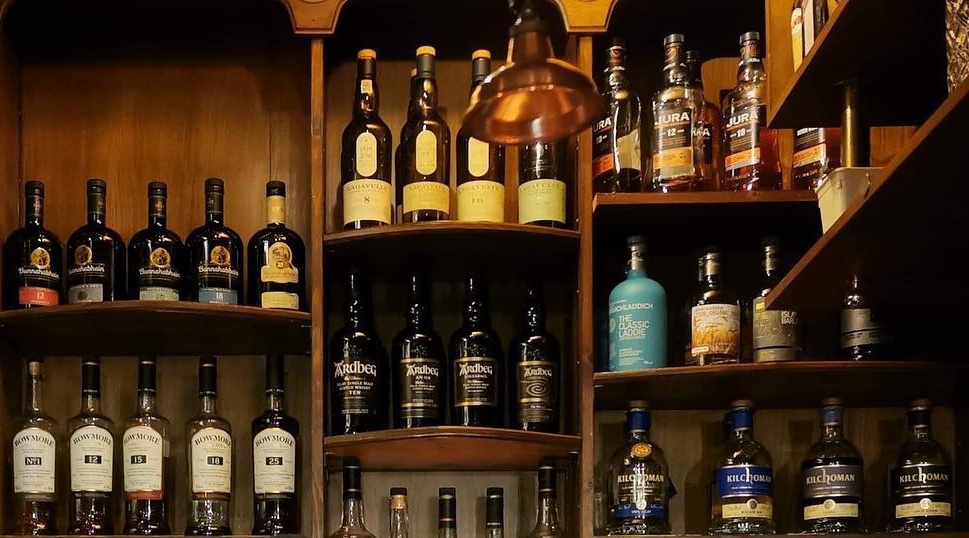 The Schooner Bar in the Bowmore Harbour Inn is cozy, warm and unsurprisingly has a very large selection of whiskies. There's even a detailed guidebook available to introduce each option. You can always head to this bar for a dram and a seafood snack if you don't want the full restaurant menu. It's also worth noting that Bowmore Distillery is a two minute walk away.
Lochindaal Hotel BarS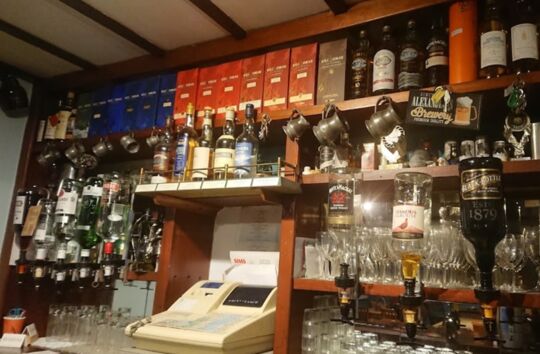 The Lochindaal Hotel in Port Charlotte has two bars. They boast an impressive collection of rare and unusual Islay and other malt whiskies. The public bar has a pool table and a dart board. The lounge bar has a pleasant dining area with tables and seating for up to 24 guests. It's comfortable and cosy with an open fire and is where most meals are served. Fresh bean to cup coffee is served all day in both bars.
Port Charlotte Hotel Bar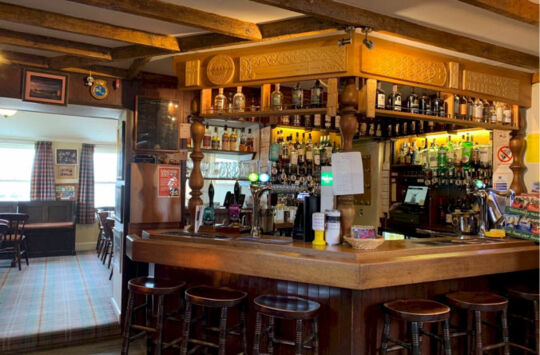 The bar at the Port Charlotte Hotel oozes charm and tradition. The bespoke carved wooden bar has an enviable selection of whiskies from Islay, as well as a full range of quality beers, wines and spirits including local Islay ales and gins. A range of bar meals are served at lunchtime and in the evening with advanced booking recommended, particularly in the busy spring and summer season. The cosy and convivial atmosphere in the bar makes it a hub for locals and visitors alike.
Port Askaig Hotel Old Port Bar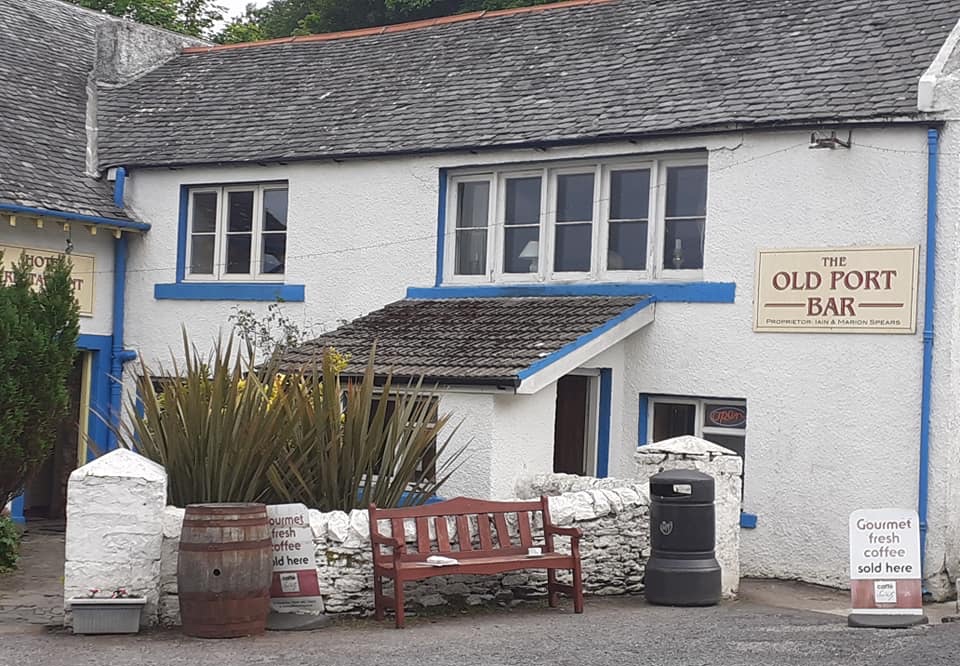 The Old Port Bar in the Port Askaig Hotel is the oldest continually licensed premises on the island (dating from the 16th Century). It carries an extensive selection of Islay Malts in addition to a display of old and rare bottles, which may interest the visitor. They also sell a good blended whisky. The bar is part of what is an old drove inn situated in arguably the best coastal location in Islay. The hotel also has a second "Snug Bar" which is ideal for a pre-dinner drink or a cosy evening with friends.