Restaurants
Enjoy your dining out experiences on Islay with this selection of excellent restaurants.
Ballygrant Inn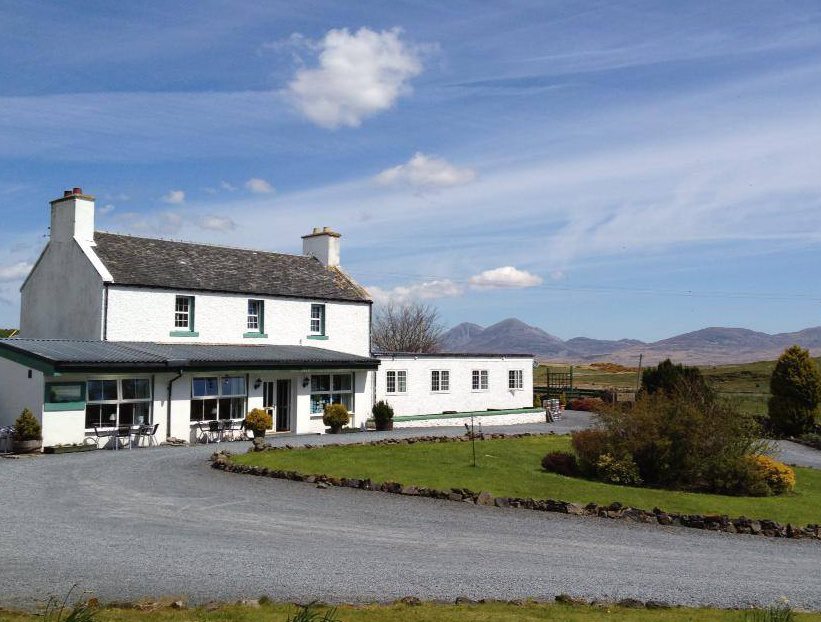 The Ballygrant Inn enjoys an excellent reputation for its wide variety of high quality homemade food using the best in local and Scottish produce. Dishes are created from Islay beef, lamb and venison and local scallops, crab, lobster and langoustine from the surrounding waters, along with the best quality vegetables and fruit. No frozen or ready prepared foods are used in the kitchen. All dishes are prepared fresh daily, or are cooked to order. Dishes are simply prepared yet attractively presented to enable the best Islay and Scottish flavours and tastes to be enjoyed.
Bowmore Hotel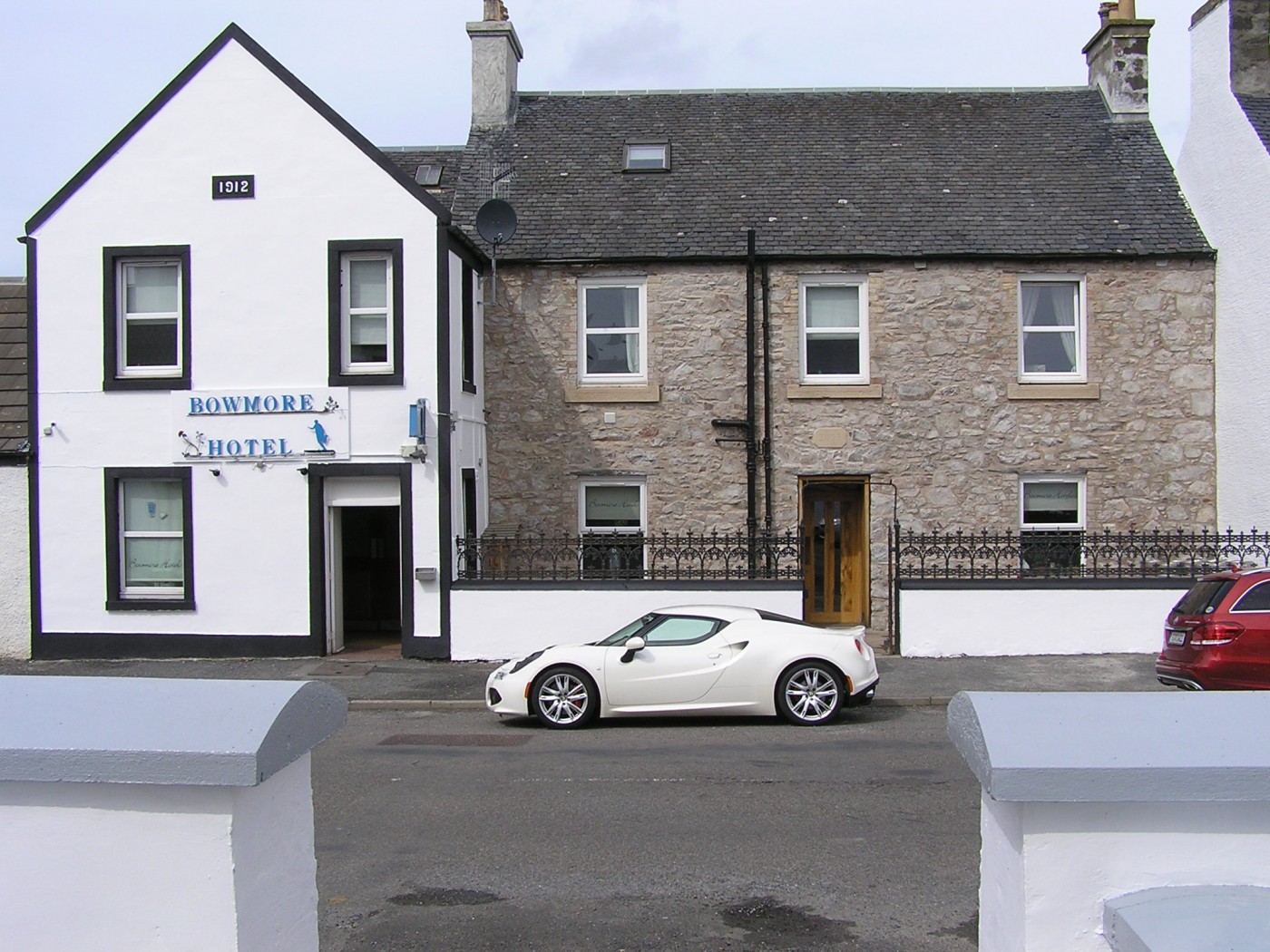 The Bowmore Hotel cooking again makes excellent use of Islay's local produce including beef, lamb and seafood, all of which is served in the beautifully appointed dining room. A wide variety of affordable home-cooked food is prepared using fresh, fine quality ingredients. The friendly staff do their best to cater for specific needs, so you are unlikely to be left hungry or disappointed! The restaurant gets very busy so bookings are advisable, especially at peak times.
Bridgend Hotel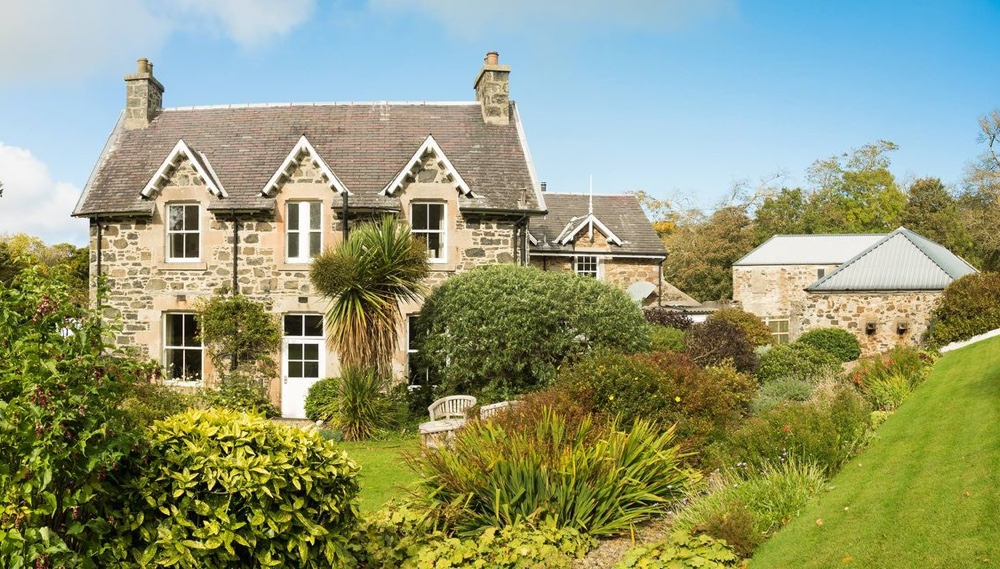 The Bridgend Hotel, like other restaurants on Islay, is proud to offer local produce. Whether it's fresh vegetables from the garden, game from Islay Estates or high quality beef, lamb, shell fish or oysters, guests will appreciate the wide variety of dishes available. Located at the "Heart of Islay" and drawing on over a century and a half of experience, the hotel aims to provide the traditional island welcome, offering a warm, friendly and professional service to guests.
Harbour Inn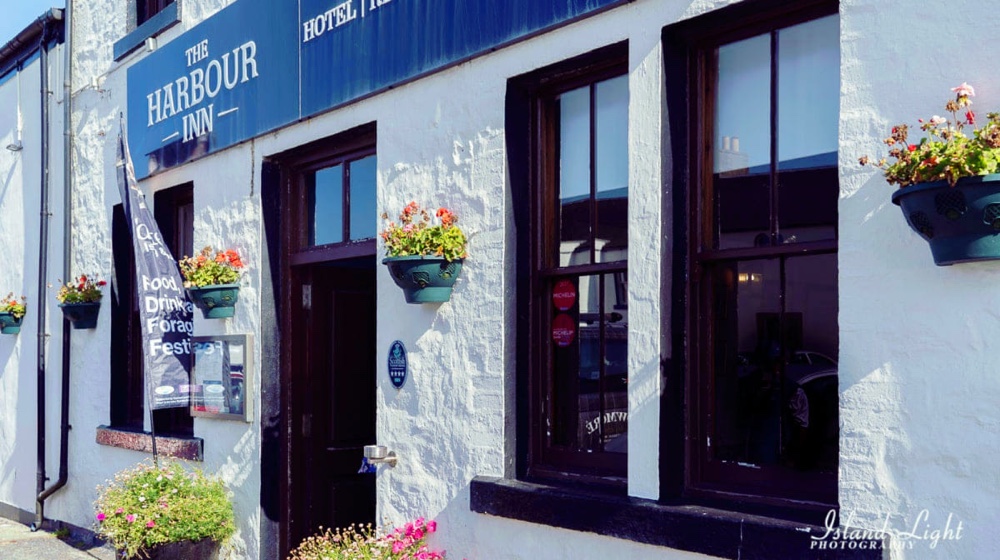 The Bowmore Harbour Inn serves the finest of local produce. Their award-winning restaurant provides inspired menu choices that frequently change to ensure that fresh seasonal ingredients are available. Both time-honoured favourites and bold new flavours are on offer to suit all tastes. Combine this with the unique ways food is prepared, the professional service and the warm, welcoming atmosphere and you have a dining experience to savour!
Islay House Hotel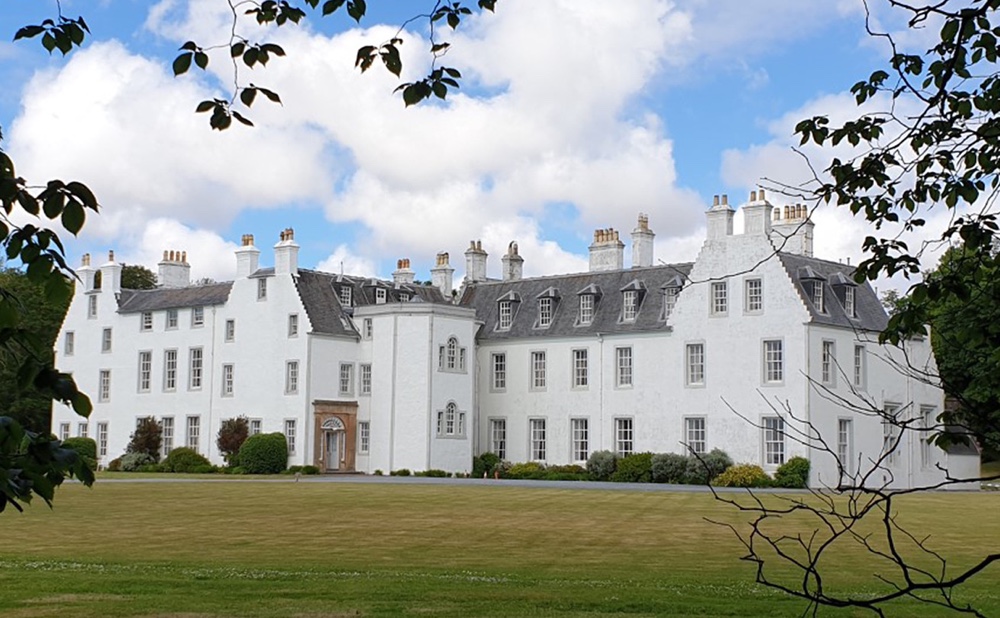 The Islay House Hotel in Bridgend offers an exceptional dining experience. You will find their dining room and tea room offers great ambience, perfect views, delicious menus tailored to different tastes and local produce. You're also guaranteed a warm welcome from the friendly team. Families are welcome, and they are happy to put together a meal to make the fussiest of young eaters happy!
Lochindaal Hotel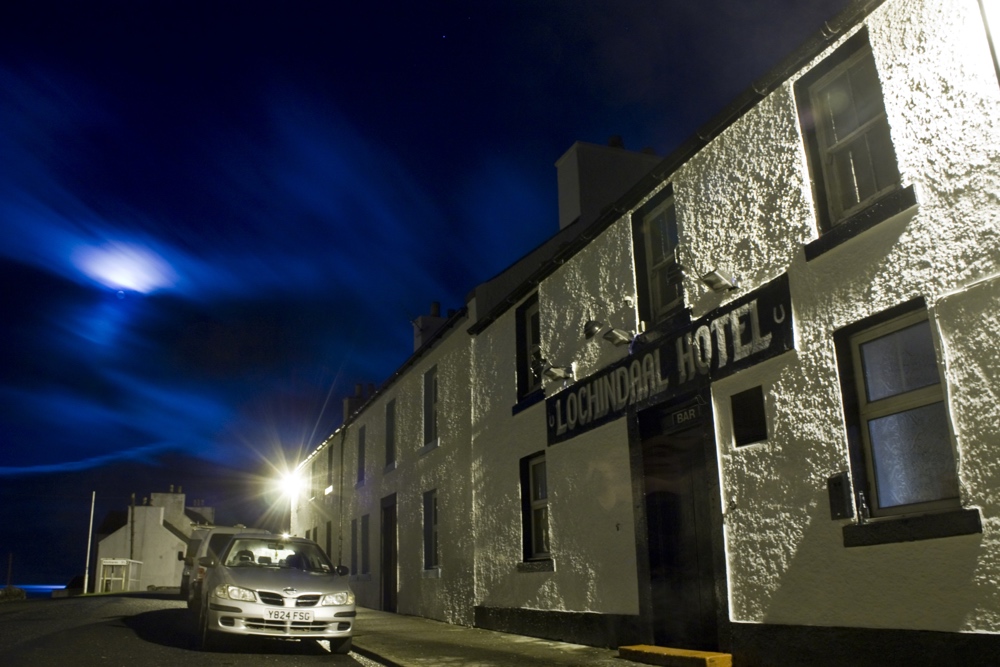 The Lochindaal Hotel in Port Charlotte provides a small cosy restaurant serving local fresh food. The speciality dish is the large fresh seafood platter (please note that all seafood is served in our sister restaurant the Lochindaal Seafood Kitchen from March to October).
Lochindaal Seafood Kitchen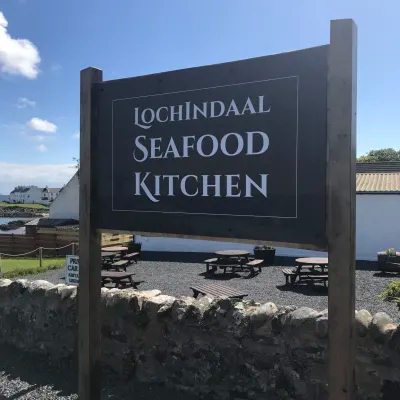 Lochindaal Seafood Kitchen is located in the picturesque village of Port Charlotte. It boasts uninterrupted sea views of Loch Indaal and the lighthouse. It serves fresh, local seafood with seating outside and in, depending on what the Scottish weather has to offer! There's even a lovely, cosy log burner for those cooler days. Fresh gourmet coffee is served all day, with takeaway options and free wifi. Friendly local people are there to welcome you, and all dishes are made with love and care using mostly local produce.
Lochside Hotel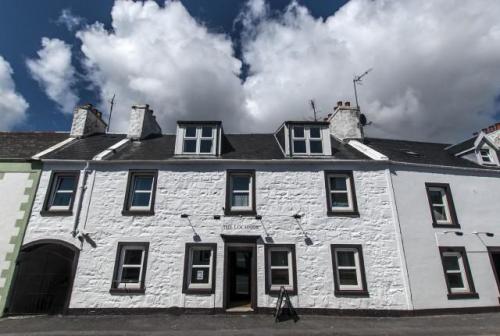 The Lochside Hotel kitchen in Bowmore provides a varied all-day dining experience, from full Scottish breakfasts to dinners of Islay scallops washed down with a bottle of sauvignon blanc. Local crab, langoustines, scallops, mussels and oysters all feature regularly on the Lochside's summer menus, alongside halibut from the neighbouring island of Gigha, prime sirloin steaks, racks and shanks of lamb, as well as old favourites like fish and chips and steak and Islay Ale pie.
Peatzeria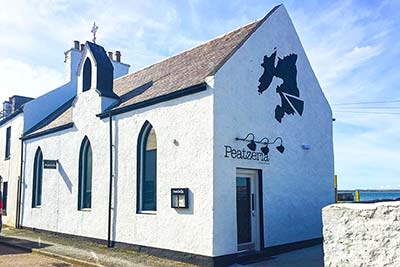 Peatzeria in Bowmore is primarily a pizza restaurant but serves lots of other dishes as well. The name was carefully chosen to blend in perfectly with Islay's rich whisky heritage past and present. Fresh ingredients are used for a large variety of pizzas and other dishes. The pizzas range from the traditional margherita and pepperoni to Islay lobster and scallops. You can also create your own pizza, starting with a margherita base. Other delicious dishes include penne arrabbiata, lasagne, chicken parmigiana and vegetarian risotto.
Port Askaig Hotel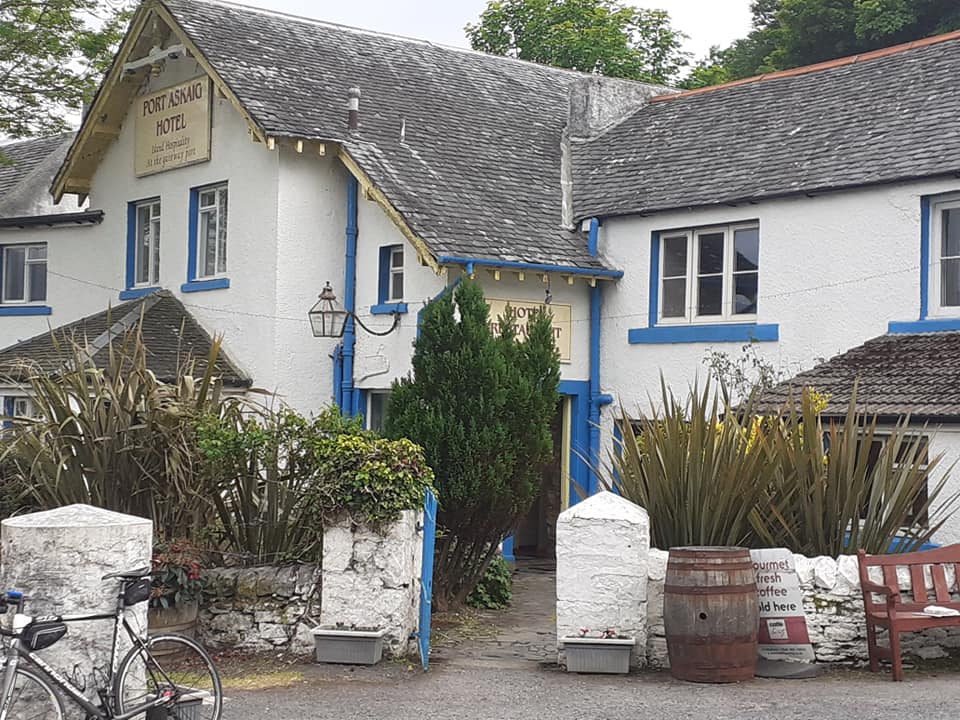 The Port Askaig Hotel is a picturesque, family-run, shoreside Highland Inn. The "Starboard" Restaurant is open all year with a menu featuring local Islay meat and seafood from the daily catch. The restaurant offers bistro style dining with a full meal service in both bars, and hot snacks available outside main meal times. The seasonal menu offers plenty of variety for both food choices and plate size for daytime meals... everything from light snacks to lobster lunches!
Port Charlotte Hotel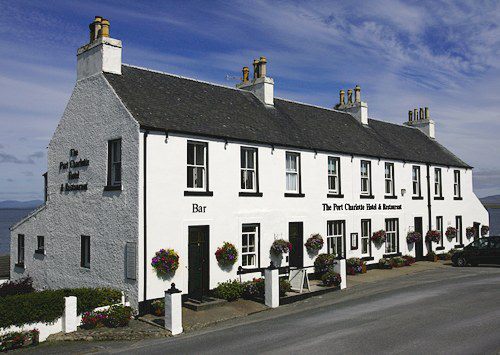 The Port Charlotte Hotel offers you a beautiful view with your meal at a table on the sea side in the restaurant. Local produce, freshly prepared to order and served in elegant surroundings is the central theme of the restaurant. Beef, venison and lamb is sourced from local farms, game (including woodcock and red partridge) from island estates and scallops, lobsters, oysters, crab, langoustines and prawns from the Islay fishing fleet.
Seasalt Bistro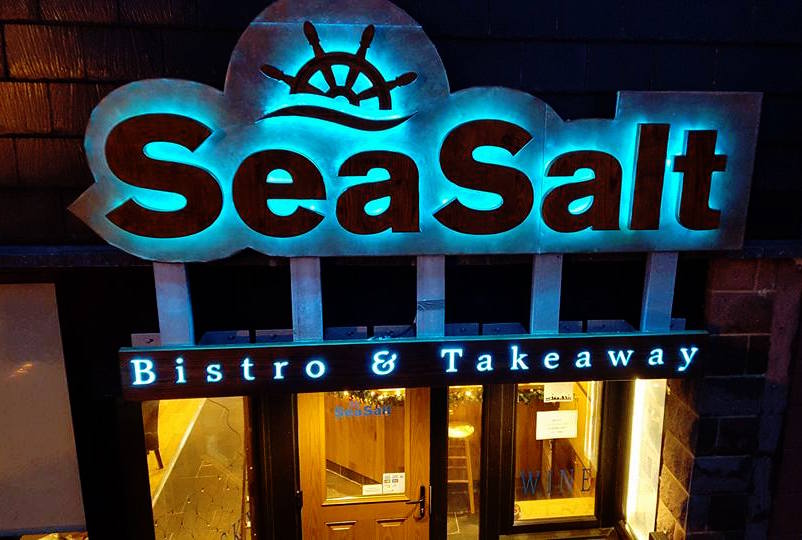 SeaSalt Bistro in Port Ellen offers varied lunch and dinner menus, and a popular takeaway service. The welcoming and attentive staff offer a diverse contemporary cuisine, from freshly made pizza and pasta dishes to seafood and steaks, and an attractive selection of daily specials. Cooked to a high standard in an open kitchen, most of their food uses locally sourced ingredients, including Islay-landed lobster, langoustines and scallops, a daily fish dish, and Argyll beef, lamb and venison.
Taj Mahal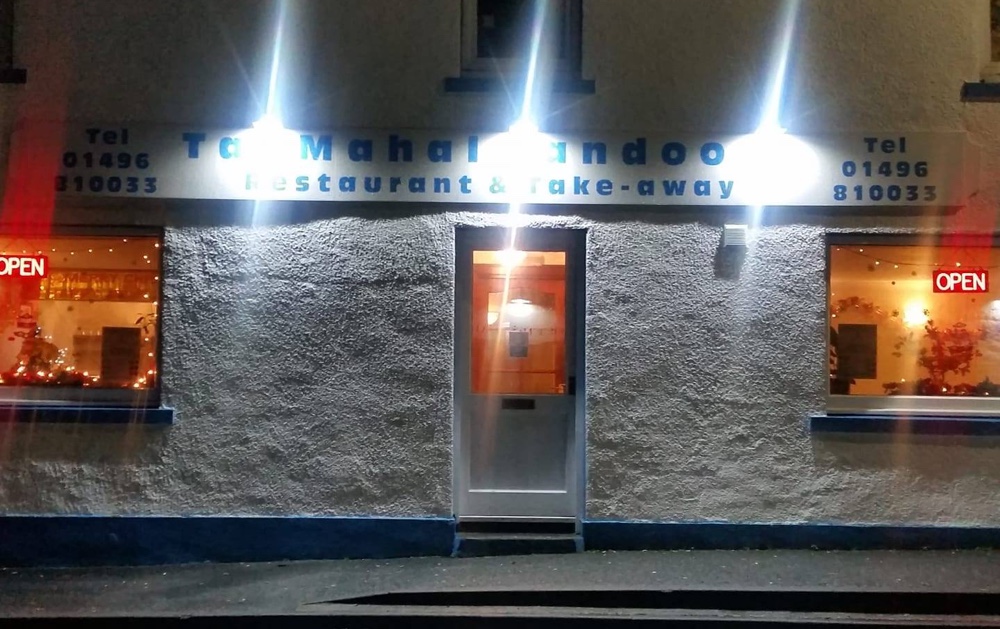 The Taj Mahal Indian Restaurant in Bowmore gets rave reviews for its many flavours and delicious dishes. One reviewer, trained in both making and consuming curries, sampled four different mains over several visits and concluded it was one of the best Indian restaurants he had visited. The friendly and knowledgeable staff will also make you feel welcome and provide helpful menu recommendations.
The Islay Hotel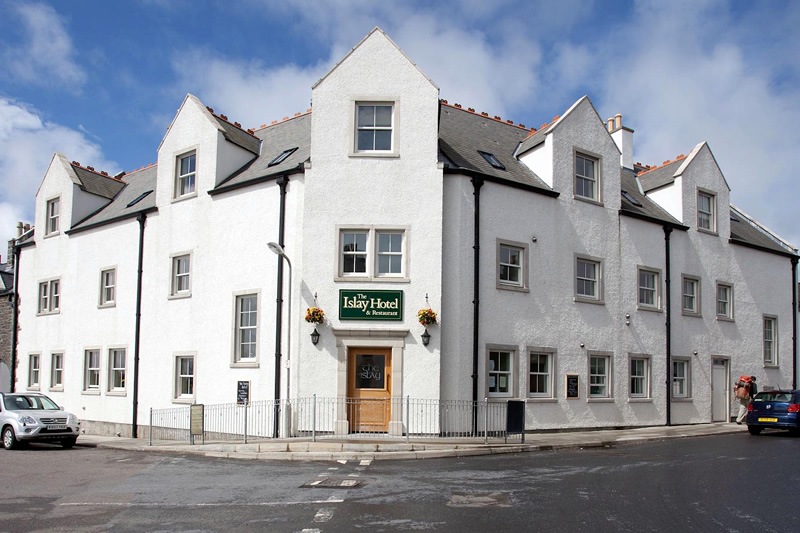 The Islay Hotel in Port Ellen has a widely acclaimed restaurant with breathtaking views overlooking the marina. It provides excellent local food which is simply prepared and sensibly priced. The seafood medley is a favourite dish, made possible by the close working relationship the hotel has with local fishermen to get the best produce on the menu. Other classics like the rack of Argyll lamb are also popular. And it all comes with friendly, attentive service.
18 (The Machrie)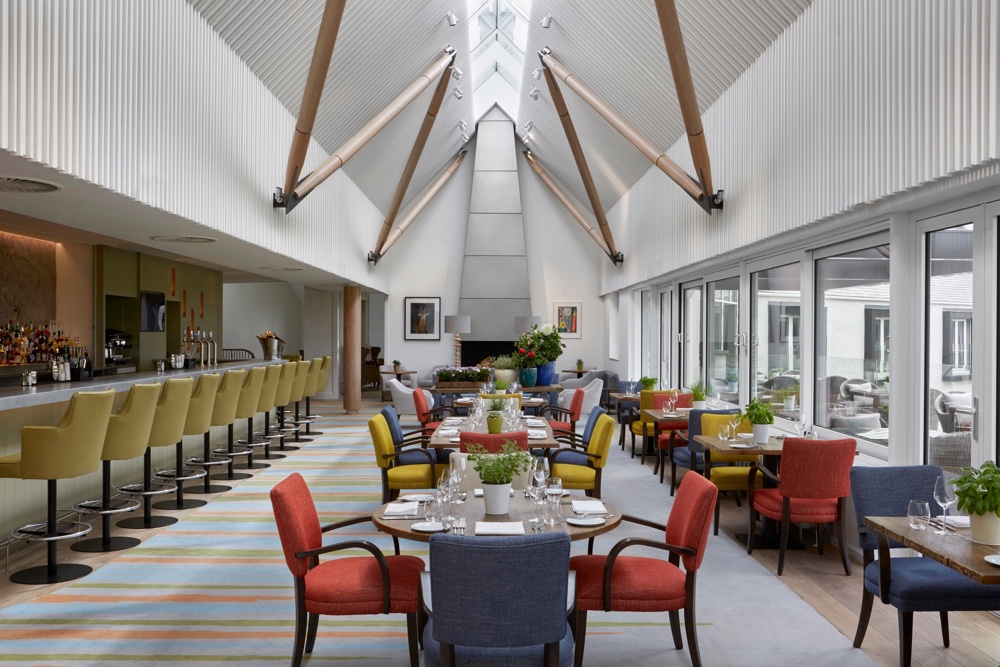 Overlooking the 18th green of the famous links course and the ocean beyond, 18 is the stunning restaurant and bar of The Machrie Hotel in Port Ellen. It specialises in the finest ingredients that Scotland has to offer from the land, the sea and the air. The passionate chefs have created menus offering simple yet exquisite dishes, using all the very best produce which can be sourced locally. Dishes constantly change through the season, making the most of the freshest local produce.