Bruichladdich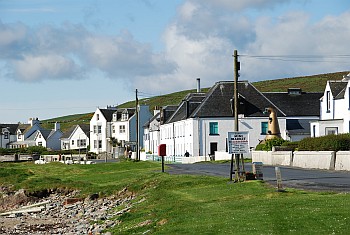 Bruichladdich village was built around the Bruichladdich Distillery which was founded in 1881 by brothers Robert William and John Gourlay Harvey. The distillery was so advanced that today most of the equipment continues to be used, largely unchanged.
Unlike other distilleries, which were often built from old farmhouses, these buildings were erected specifically for this purpose. The distillery complex was built from stone from the seashore with a very efficient layout. After closing in 1994 the distillery reopened in 2000 and became very successful under Jim McEwan as the master distiller; he retired in 2015. Today, the distillery also produces Port Charlotte and Octomore whiskies as well as the Botanist gin which uses locally-foraged botanicals.
Bruichladdich Pier
The pier offers wonderful views towards Bruichladdich and the Rinns. Nowadays the pier is mostly used for oil tankers and the annual fertiliser boat. Formerly the concrete pier was used to unship barley which was then transferred by horse and cart to the distillery and off-loaded to the barley loft.
Bruichladdich has a well-equipped shop, Debbie's Mini Market. This sells fresh and natural foods, serve coffees and teas, and acts as local Post Office.
At Bruichladdich pierhead you can find the former building of Islay Studios which featured as a pub in the movie "The Maggie".
Burnside and Conisby
Two minor roads left and right from the Bruichladdich distillery lead to residential areas. The road on the left, or south from the distillery, goes to Burnside, a small residential area. To the right, north of the distillery, a road goes uphill to Conisby, another residential area with mostly detached houses and some farmhouses. A farm track behind Conisby leads to the former peat-banks of Bruichladdich and offers great views over Loch Indaal.