Loch Indaal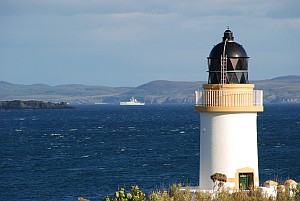 Loch Indaal stretches roughly from the Mull of Oa in the east to Rinns Point in the west and offers many miles of beautiful unspoilt beaches, some of which are safe for bathing.
Together with Loch Gruinart, Loch Indaal almost splits the island in half; here you'll find attractive villages like Bowmore, Bruichladdich, Port Charlotte and Port Wemyss. The A847 from Bridgend to Portnahaven leads you around the loch.
The shores of Loch Indaal are about 35 miles long with a variety of landscapes. Look out for the high cliffs in Lower Killeyan, the seven miles of sandy beach at Laggan Bay's Big Strand, the beaches at the head of Loch Indaal near Black Rock and rocky ones from Bruichladdich to Rinns point.
They all have their own charm and character. Views change as fast as the weather, making sure there is always something interesting to watch. The Royal Navy never found Loch Indaal important as it's very shallow, but it was used by the RAF for their flying boats during World War II. Large ships can't enter Loch Indaal towards Bowmore, leaving the harbour for fishermen and recreational boats. The only larger ships that can enter Loch Indaal dock at the Bruichladdich Distillery pier.
Wildlife and beaches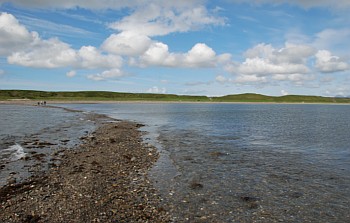 The whole coastline of Loch Indaal is interesting for its rich wildlife. You can see birds from almost anywhere – the most common species are oystercatchers, (arctic) terns, gulls, eider ducks and lots of other waders. In winter, geese roost in their thousands on the mud flats and salt marshes near Bridgend.
Roughly between Bridgend and Bruichladdich is an area of raised beaches, remains from the last Ice Age when huge masses of ice compressed the land underneath. When the ice melted, the land lifted leaving the raised beaches. This process continues today.