Port Ellen & Ardtalla
Discover the attractive and secluded south-eastern part of the island. See the seals, Kildalton Cross, Claggain Bay and tour the three iconic distilleries (Laphroaig, Lagavulin and Ardbeg). You may even spot a few eagles along the way! Highlights:
Kildalton Distilleries
Kildalton Cross
Claggain Bay
Port Ellen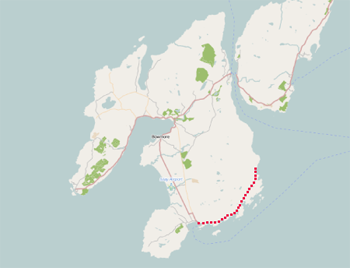 Your starting point is Port Ellen. Before leaving this beautiful village, perhaps enjoy a coffee in the Cyber Cafe, have lunch in one of the pubs or visit Port Ellen Maltings. When you are ready, follow the sign to Ardbeg Distillery from Frederick Crescent. There are some great views to admire over the south-east coast of the island. Directly after the village ends, you will find a minor road on your left which leads to some farms and a tall standing stone.
Kildalton Distilleries and Dunyvaig Castle
Back on the main road, head towards the three famous distilleries on your right (Laphroaig, Lagavulin and Ardbeg), all located on, or very near the shore. Lagavulin Bay is worth a visit, at the entrance there is Dunyvaig Castle, a former stronghold of Clan Donald, now in ruins. To access Lagavulin Bay, drive right through Lagavulin village until you reach a wee track to the right where you can park and head to the castle. If you stop at Ardbeg, you can enjoy a magnificent restaurant called The Old Kiln Cafe. The three Kildalton distilleries each have a pier, or remains of a pier, which was used in the old days when transport was done by ship. These piers all have great sea-views as well as beautiful views back to each of the distilleries.
Seal Bay and Kildalton Estate
The main road now becomes a single-track road. After a rather sharp turn to the right you drive along "Seal Bay", officially named Loch an t-Sàilein. On most days there are seals resting or sunbathing on the rocks. Directly after the bay is Kildalton Estate and the now ruined Kildalton Castle, both inaccessible to the public.
Claggain Bay and Ardtalla
The road continues, and when you leave the dense woodlands, there is a long straight stretch over moorland followed by Kildalton Cross and Chapel on your right. The last leg of this tour continues over a few more miles of single-track road. You then reach Claggain Bay, at the end of which is a closed gate and a wee parking space for visitors at Ardtalla.