Atlantic coast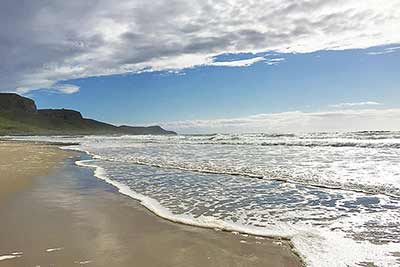 The west coast of Islay stretches roughly from Portnahaven's Frenchman's Rocks in the south-west to Ardnave Point in the north and is about 30 km long. It consists mostly of cliffs battered by the continuous waves of the Atlantic Ocean. Many of the lovely sandy bays are easily accessible; however swimming or bathing is not advised due to strong currents.
Take the B8018 or Kilchoman Road, which starts a mile north of Bruichladdich, to some of Islay's most beautiful coastal scenery. This beautiful single-track road runs uphill past Foreland House where you'll find magnificent views over Loch Indaal, the Atlantic coast and Loch Gruinart, with the mountains of Mull in the distance.
You can reach Lossit Bay and Kilchiaran Bay from the centre of Port Charlotte, where a quiet single track-road takes you over the Rinns of Islay to the west coast.
Here's a quick round-up of where to go and what to see:
Sanaigmore Bay
Located in the north-west, Sanaigmore Bay can be reached at the end of the B8018. Park next to the Exmouth Memorial Cairn at Sanaigmore road end. You'll see a cairn which was erected in memory of the 241 victims of the Exmouth disaster. From here a little walk over grasslands brings you to this lovely bay, but watch out though for bulls. Since this bay faces north it can be somewhat sheltered from the prevailing south-westerly winds.
Saligo Bay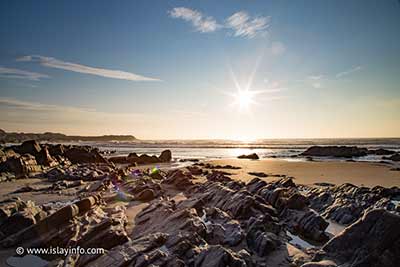 Nine kilometres south of Sanaigmore Bay is what many consider Islay's most beautiful bay. You can get to Saligo Bay through a gate halfway between Machir and Ballinaby farm west of Loch Gorm. For access, cross the dunes with numerous rabbits and descend to reach the breath-taking beach.
Some photographers say that Saligo Bay offers among the most exceptional light; it's therefore a favourite spot to watch and photograph Atlantic sunsets. North of Saligo Bay is a distinctive rock formation, known locally as the 'Sleeping Giant'.
Machir Bay
Go south and you'll find the beautiful Machir Bay, also known as Kilchoman Beach. This bay is easy to access and you can park close by. You'll discover almost two kilometres of beautiful sandy beach. It's a great place to watch sunsets and fabulous for walking.
Bathing can be dangerous due to the strong currents and is therefore not recommended. At the south end of the bay is a track up the cliffs to Kilchiaran Bay, This passes Dun Chroisprig, an Iron Age fort, and Grannie's Rock.
Kilchiaran Bay
Head west from Port Charlotte and a little further south you'll come across Kilchiaran Bay and Chapel, where St. Columba set foot on Islay. Kilchiaran Bay is easily accessible through a gate close to the chapel. The chapel itself is worth a visit; just outside is a cup-marked stone. Kilchiaran cross itself is in the Islay museum.
Lossit Bay

Lossit Bay is a mile south of Kilchiaran Bay. It has a wonderful sandy beach, stunning cliffs and views towards Frenchman's Rocks. Lossit Bay is also a good place to spot choughs on the cliffs and is part of the chough protection area on the Rinns of Islay. Please note: there's no car parking here.
Frenchman's Rocks
Further south, close to Portnahaven and the Wavegen power station, are Frenchman's Rocks. three stacks 500 metres off the coast. This part of the west coast is considered to be one of Islay's best wildlife observation spots. There's nowhere more thrilling to observe huge Atlantic waves rolling in during heavy winds.